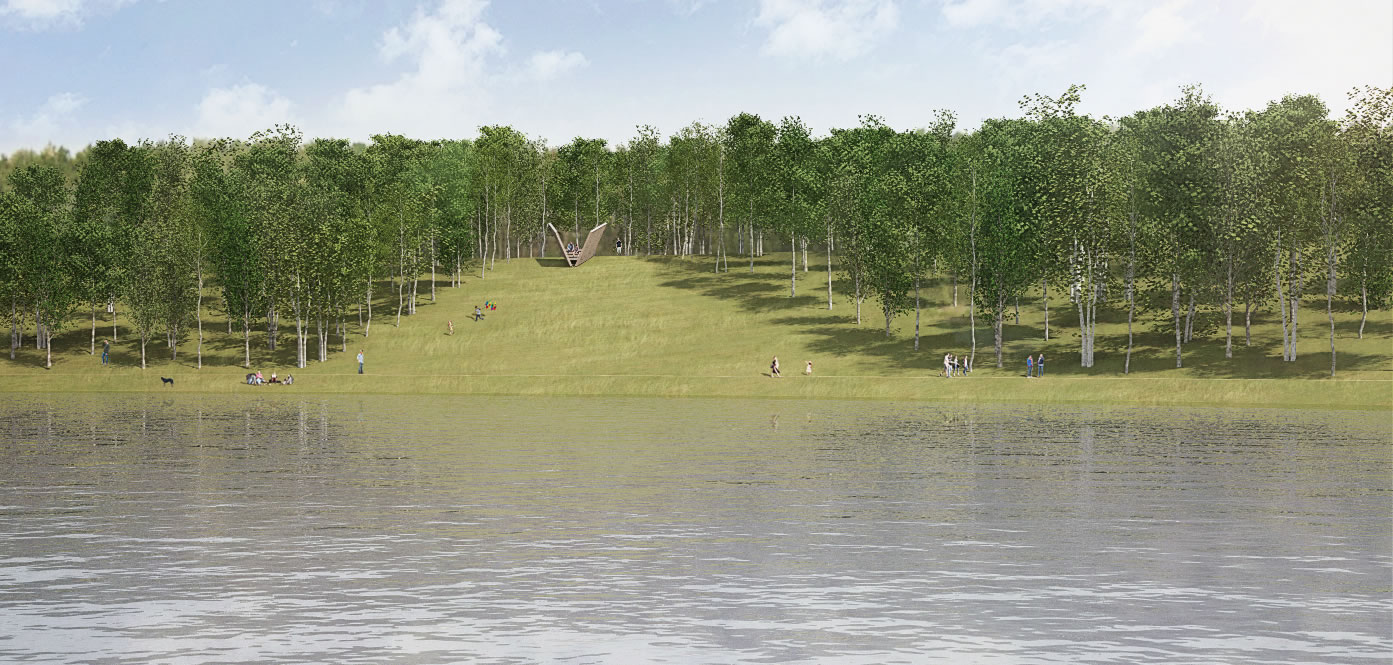 enVol
Competition for an installation | Marcel Cabiddu's park, Wingles | with Tout en Bois Carpentry | 2020
EnVol is an installation conceived for the festival "l'Odyssée des Cabanes" for a former mining site requalified as a natural and leisure area in the North of France. The proposed location overlooks the lake and is located at the pinch point of a large indentation in the forest. It offers an unobstructed view but framed by the edges of the clearing, whose V-shaped cutout materializes a vast cone of vision in the landscape.
The project takes up this figure and makes it vertical, evoking the flight as a symbol of openness and renewal of the site. It then enhances the natural belvedere by installing a contemplation space/solarium in tiers that inscribes the structure in the slope, while its spindle-shaped plan reinterprets the cone of vision of the clearing.
The framing is provided by a tight weave of interlocking wood elements that recalls the rhythm of the trunks in the background. These walls flare out as they rise, like sloping backs that guide the viewer's gaze to the sky. The chosen form is simple enough to be powerful and readable, and abstract enough not to freeze its interpretation. Huge bird, boat hull, open book or homothety of the clearing, it offers several possible readings, and invites to be (re)discovered along the paths in the park.
EnVol is thus presented as a structure-sculpture, intriguing and familiar at the same time, which invites visitors to settle down to enjoy the view and a motionless flight.